All Materials Including:
Steel
Stainless Steel
Copper
Aluminum
Brass
Batteries
White Goods (Refrigerators, Freezers, Washing Machines, Dryers, etc.)
Automobiles (Cars, Trucks, Tractors, Trailers, etc.)
E-Scrap (Computers, Monitors, Towers, Laptops, etc.)
House Hold Goods (Bicycles, Christmas Tree Lights, Beverage Cans, Lawn Mowers, etc.)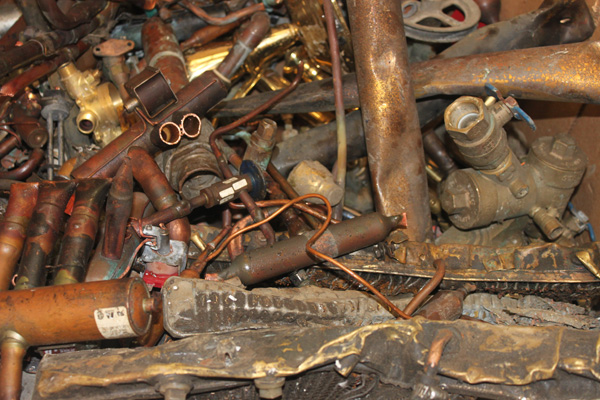 The Following Materials Will Not Be Accepted, Unless Specified Conditions Are Met
ASBESTOS CONTAINING MATERIALS:(Demolition Scrap, Building Materials, Pipes and/or Furnaces, etc.) In order to accept such items, all asbestos must be removed in accordance with applicable regulations, prior to deliver.
CFC/REFRIGERANT-CONTAINING MATERIALS: ONLY UNITS that have been properly evacuated of all refrigerants(as described in Paragraph 608 of the Clean Air Act, in accordance with 40 CFR PART 82) prior to reaching our facility will be accepted.
COMPRESSED/LIQUEFIED CYLINDERS OR TANKS:(Oxygen, propane, Acetylene, Helium, Fire Extinguishers, etc.) Cylinders will be accepted if: segregated, all valves and fittings are removed, cylinders are depressurized, and rendered as unusable.
CRACKED OR LEAKING BATTERIES: Non-leaking and non-cracked batteries will be accepted as a separate commodity if segregated prior to unloading.
EXCESS TRASH or NON-METALLIC RECYCLABLES: Any excessive trash or slag may be subject to a downgrade.
MERCURY SWITCHES:Crushed automobiles will be accepted if mercury switches are removed prior to delivery.
PCB CONTAINING MATERIALS WILL NOT BE ACCEPTED! This includes: Pre 1980 Capacitors or Microwaves, Pre 1980 Capacitors (For Instance: AC Units, electric motors, equipment), and or Light Ballast.
PLASTIC MOTOR VEHICLE FUEL TANKS WILL NOT BE ACCEPTED! Metal tanks will be accepted if they are removed from vehicle, drained of all fluids, and contain a visible hole for inspection purposes.
RADIOACTIVE SOURCES WILL NOT BE ACCEPTED AND WILL BE IMMEDIATELY REJECTED!
TANKS ABOVE OR UNDERGROUND WILL BE ACCEPTED UNDER THE FOLLOWING CONDITIONS: A minimum 3-foot hole must be present in one end of the tank and its entirety must be thoroughly cleaned of all fluids, liquids, or gases.
TIRES NOT REMAINING ON VEHICLES! More than five tires per car, or tires removed from the rim will not be accepted!
UNLAWFULLY OBTAINED MATERIALS, INCLUDING ANY STOLEN ITEMS WILL NOT BE ACCEPTED:
SCRAP CONTAINING FREE-FLOWING LIQUIDS: (Oil, Fuel, Coolant, Antifreeze, Solvents, etc.) All free-flowing liquids must be properly drained prior to delivery to our facility.
STOLEN ITEMS WILL NOT BE ACCEPTED